BIOGRAPHY
Viper Soup Complex is a Maltese Progressive/Avant-Garde Rock/Metal band formed in 2012 that specializes in unconventional music and unorthodox stage antics.

Stylistically, VSC delves into multilayered sonic outbursts. Often accompanied by dreamlike musical textures.
Thematically, the lyrics are mostly influenced by the absurd. So far, all the songs take a form of a story telling scenario.

In Malta, the band has shared the stage with Septic Flesh, Enemy OF Reality, and Thurisaz. Abroad, with Riverside, Katatonia, Within Temptation, and Planet of Zeus.

2018 saw the release of the debut album: RED FUGUE.
Currently, VSC is composing new material, while revisiting the RED FUGUE material for live purposes and musical growth.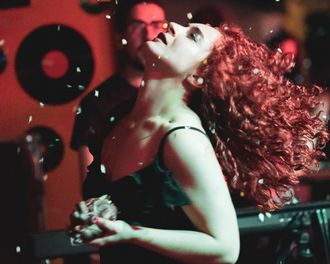 Annemarie Spiteri
Vocals, Lyrics, Theatrics
Singing for as long as She can remember her love towards music started off from singing along cartoon theme songs on Italian television.

Inspired and influenced by bands such as "Nightwish" and "within Temptation" whose symphonic elements took her into an unlimited world of imagination and fantasy, at 19 years of age she joined a local ambiance, atmospheric, metal band called "Sepia." Soon afterwards she started to take classical singing lessons with Ms. Antoinette Miggiani, whose years of coaching were necessary and essential into shaping her style.
After Sepia got disbanded, she took part in various other musical projects, that formed part of the local underground scene, including "Nisga" a folk world- music oriented band, and "Deluge of Sorrow" - an experimental, atmospheric doom metal band, participating in both mainstream events such as "Ghanafest" and "Notte Bianca" as well as events in the underground scene.
In 2015 she joined local symphonic, death and black metal band "Martyrium". This band provided her with the opportunity to tour and participate in gigs and festivals in: Ukraine, Romania, Italy, France,Slovakia Germany and Belgium. Throughout this time she shared the stage with huge bands and names in the metal scene including:Sepultura, cradle of filth and Behemoth.
By then Annemarie had also become an event and festival organizer, as 'Martyrium' were in talks with different foreign and local bands who participated in their annual local festivals. She is up to this very day in charge of organizing and coordinating the yearly festival "SoundArt Malta"
Throughout this time Annemarie was also part of "Viper soup Complex". At the time the band was occupied with writing new materials for their first album, as well as preparing for live local gigs.
By the end of 2017, her time with "Martyrium" had come to an end and "Deluge of sorrow" took a bit of a back seat however "Viper Soup complex" still went and goes on.
"Viper Soup Complex" have proudly released their debut album on the 22nd of October 2018. They have so far also been given the opportunity to perform with significant foreign bands (such as "Septic Flesh") in local
festivals. Between 2018 and the end of 2019 Annemarie toured together with the band in various countries, bringing their music to Poland, Romania,
Belgium, Italy and the UK sharing the stage with "Riverside" in March of 2019 amongst others.
In 2022 following the pandemic, Annemarie (together with Vipersoup complex) resumed her touring explorations, as the band shared the stage with "Within temptation" in Romania and "Focus" in the UK to name but a few. Together with viper Annemarie is currently focused on the release of their EP and is exploring new musical and theatrical directions through other involvements she has with CentreStage Malta.

"Viper Soup Complex" has given her the space to express herself through theatrics, props and choreographies. Currently Annemarie sees these
performing arts as being next in line for further improvements. areas of development.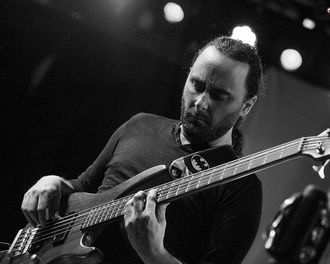 Michael Spiteri
Bass
Bass and Lyrics for a number of projects I've been involved in.
Interested in art, cinema, comics, video games, and fitness. 
I use Spector Basses exclusively. 

Music Involvement: 
Sepia - Progressive Metal (2006 - 2011)
Nisga Project - World Music (2012 - 2014)
Malta Dio Disciples - Ronnie James Dio Tribute Show in Aid for Hospice Malta (2012 - 2016) 
Viper Soup Complex - Progressive/Avant Garde Metal (2016 - current)
Goldstein - Post Metal (2017 - current) 
 
Releases: 
Viper Soup Complex: RED FUGUE (2018)
Goldstein: DE MOTIVE AID (2019)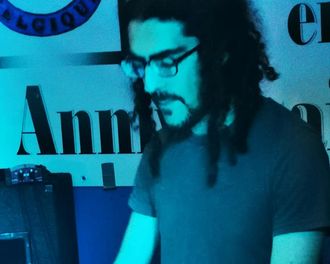 David Ciantar
Keyboards
David is a Maltese pianist and keyboard player. He studied music theory at the Malta School of Music, where he also studied Classical Piano under Marco Rivoltini and Jazz Piano under Joe Debono. He is currently the keyboardist for the bands Viper Soup Complex and Sleek.

Over the years he has worked and collaborated with many bands and artists, including Brass House Unit, Ivan Grech, Palace String Orchestra, Relikc, Ozzy Lino, Desi Campbell, Lara & the Jukeboys, The Mel Collective, Karin Duff, Destiny, Blacklight Studios, Faqar Mentali, Different Strings and zeriouz fUNK.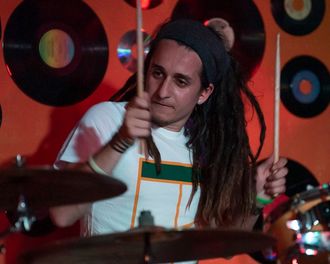 Melchior Busuttil
Drums
Melchior Busuttil born on 23rd August 1991 he comes from Pembroke. He is a Drummer/ Percussionist, Tutor and Producer/Studio Engineer.
Born and raised in Malta, He has been playing drums professionally since the age of 16, and is a highly respected musician and educator, known for seamlessly and creatively merging technical ability with musicality.
Melchior studied drums under the direction of the Maltese Percussionist Joe 'Bibi' Camilleri and also studied timpani, xylophone and other percussion instruments at the Malta School Of Music.
Apart from Drums and Percussions he also studies music theory and Orchestration under the direction of Annemarie Chircop and graduated with distinction and honours.
He is experienced in performing both live on stage, recording in the studio and on TV, with a diversity of artists in a broad range of styles.
Not new to entertaining on big platforms, such as Muzika Muzika, Notte Bianca, Eurovision Song Contest, Ġensna, Beerfest/Winefest, Għanja tal Poplu, Kaxxaturi, Teatru Unplugged, the annual Pantomime and other large scale events.
Melchior has taken his work, both as a player and tutor, across Europe to countries like Spain, United Kingdom, Germany, Italy, Romania, Greece, Poland, France, Belgium, and others as well as further around the globe to places like Mexico and the United Arab Emirates.
He has been part of the production of singles and albums with Saving Alexis, Cruz, Marc Galea, No Bling Show, Xarulu, Viper soup Complex, Simon Sammut, Brass house unit, Chordust and other independent artists/bands that have hit the No.1 spot on Malta's most popular radio stations, and also won awards for his hard work at various local Music Awards.
Currently playing with some of Malta's biggest bands, like No Bling Show, Brass House Unit, Viper Soup Complex, Palace string orchestra, Malta Concert Orchestra and others, in some of the country's biggest musicals and productions such as Ġensna, Abba Gold, Muzika Muzika, Cats, 1565, Sound of Music, Djamanti Muzikali, Addams Family, etc , and is also affiliated with major foreign drum companies as-well as other sponsors who support his musical endeavours.
Busuttil's experience means that he is sought after not only as a player but also as a producer/studio engineer & educator.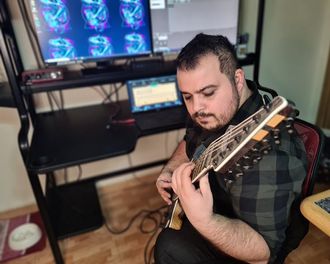 Glenn Sultana
Guitars
Glen Viper Soup Complex (2021 - 2023) Fiercely rooted in the Modern, Darker and Heavier side of music, while also being a fanatic of 80s & 90s Music.

Guitarist for multiple projects in the past but Viper Soup Complex, is definitley the one place where i could let all my Mojo flow freely, and defines my style as a musician.

Feel free to ask me what my favorite dinosaur is & if you do not acknowledge Jurassic Park as a masterpiece we cannot be friends.